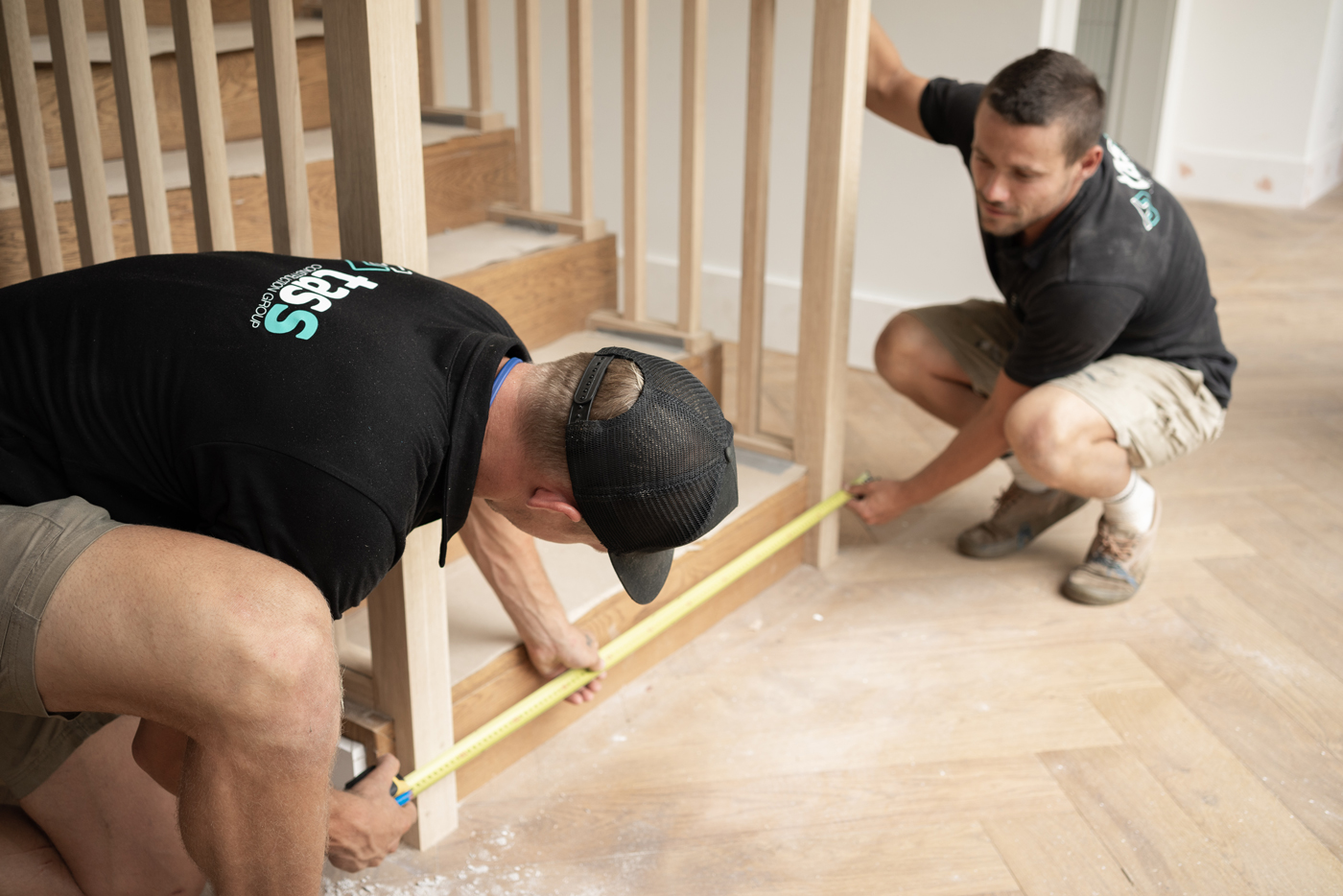 Ben and Aaron, what can we say about the Tass Construction group that hasn't already been said by so many satisfied clients. On meeting Ben and Aaron for the first time we were impressed with their presentation and up to date knowledge of the industry. Right from the start we felt that we could discuss all aspects of our renovations with ease and no matter how complex we felt in solving certain issues Tass always came up with a solution. As promised work was commenced and completed on time even though we added so many extras along the way. Our top level was totally re-vamped to maximise the 180 degrees of water views and to give our home a much needed street appeal. The project included new colour bond roofing due to leakage problems, large covered veranda areas, shadow line ceilings/skirting, kitchen/servery, butler's pantry, two bathrooms, and a car hoist in the garage area. Jacob the foreman who was assigned to our build was so committed to the project and any challenge put to him was handled professionally and courteously. We found the whole team at Tass friendly and approachable and thank them all for the hard work and effort put into our project. We have had some major storms since completion and being in a High Wind area all our problems with water seepage into the second level have now been resolved. Ben and Aaron through their network of contacts and expertise have solved this major issue - 'No more leaks'. Thank you. We are extremely happy with the quality of workmanship that the Tass Group has produced and appreciated all their tradies expertise to ensure a great finish to our project, which in our minds was somewhat of a difficult build. Everyone in the Tass team are a great bunch of guys and being semi-retired I enjoyed being around them and the down time with barbecues. We would highly recommend Tass Construction without hesitation with their strong work ethics and can see them being one of the most sought-after builders within the Sutherland Shire.
Kruno & Anita
TCG recently completed a major and extensive renovation of our family home in Marrickville which involved transforming our very old and run-down, dark and disjointed house from a single story three bedroom house to a modern and light-filled, two storey, 4 bedroom home with an attic family room and loft above the rear garage. Words cannot at all describe how thrilled we are with our new family home and importantly how smoothly the whole build process was. Being such a huge commitment and decision to renovate our home especially with a young child (and first time renovators), we were very much wary and conscious of selecting the right builder who we could trust, work collaboratively with and who would listen to our needs, wants and concerns. The team at TCG absolutely went above and beyond this. We researched and met with dozens of builders and mulled for ages on who we should go with, but Aaron and Ben stood out with their professionalism, client-focussed approach, humour, genuine can-do personality and lastly we also went with our own gut feeling. Both were never more than a phone call away. All our questions, ideas, concerns, emails and texts (at sometimes ungodly hours) and our own hundred and one last minute changes, were always promptly answered and warmly accepted, with never more than a blink of an eye. Almost nothing was ever a problem if they couldn't do it. Along the way Ben and Aaron offered suggestions and creative ideas (such as extra storage and alternative sizing of spaces to suit our needs) which they certainly did not have to do and was probably easier for them not to suggest or do, but they did! We were kept informed the whole way through our 7 month build and coupled with Aaron and Ben's super organisational skills, never at all did we feel stressed or worried which is what many others had warned us about from their own renovation experiences (with other builders). A simple and succinct way to describe how our experience went with TCG is - it was as if the TASS team were building their own family home. We honestly could not have asked for a better bunch of guys to build our family home. We love our new home so much for the change it has bought onto our lives but the absolute icing on the cake for us is that each time we look around us, we know that every single piece and element of the house was created and built by truly talented, hard-working and good people. All the many trades that TCG used, from the carpenters, plumbers, electricians, painters, floorers, tilers, joinery specialists, labourers (the list goes on), were wonderful, friendly and dedicated to their jobs and importantly the quality of workmanship was second to none, making the whole major renovation look so simple (which we are sure was not, given the radical transformation). We truly feel so grateful and blessed to have the TASS team build our family home and would absolutely do it all again. It was actually sad to see the team go. We will just have to find another house to renovate! To Ben, Aaron and all the dedicated crew at TCG (all the J's! Jacob, Jared, Josh, Jack, Jordan and Sebastian) thank you so much, our little one loves her new place to roam and we can't wait to see you all go on to new heights at TCG.
Tram & Ryan
We had a big project with lots of issues with another builder. The boys came long and literally saved the day. The entire project was done with care, commitment and pride. Their customer service and after care is a new standard in the industry. I have a lot of respect for everything these boys do and how professional they are. The workmanship is great and the team is outstanding. We felt very sad to see the boys go as we were so accustomed to having them in our lives. I'd recommend them to my friends and family and wish them an incredible amount of success in their business. They really are a special bunch.
Sarah & Peter
We recently finished a large renovation / rebuild project with TASS and the experience was first class. The project finished on time & budget and from beginning to end the TASS team, led by Aaron and Ben and our Foreperson Luke, have been utmost professionals. The entire team take pride in their quality work and the end product speaks to this. We loved the fact TASS presented ideas and solutions and really added value to the process. TASS' high level of integrity and professional conduct was not only recognised by us, but also our neighbours who provided such positive feedback throughout the 7 month process. Nothing was ever too hard and the communication / response times constantly impressed us. I'd recommend / partner with TASS again without hesitation.
Tim & Neil
The first day we met Aaron and Ben Tass to discuss our project we knew they were the team we wanted to work with. They might not be aware of this, but we'd almost signed on the dotted line with another builder. However their knowledgeable, professional, upbeat approach was just what we'd been looking for. From day one, they did exactly what they said they would. They never missed a deadline, were always open to ideas and never shied away from us rethinking what we wanted. We were constantly impressed by the level of detail and diligence they applied to every aspect of the project. Aaron and Ben always maintained their ultimate aim was for us to be 100% happy and we never doubted that sentiment through the whole process. They were always keen to contribute creative solutions and ideas, and we're certain we'd never have achieved the amazing outcome we have without them. The process was fun, engaging and impeccably managed, and there were always lots of laughs along the way. The whole Tass team and their contractors were always professional, courteous, outstanding trades people. Several of our neighbours complemented them unprompted throughout the renovation. We can't imagine there could be a more positive, enthusiastic, committed construction business to work with, and if that's not enough they're just all round nice guys too! They deserve to go far in their business because they're doing everything right.
Becky & Stuart
I cannot speak highly enough of our experience with Tass Construction Group from start to finish. Aaron, Ben and the entire team were professional, knowledgable and reliable and were an absolute pleasure to deal with.
We knew within minutes of meeting the Tass brothers that they were our builders and there was not one moment throughout that we questioned that decision. The passion, dedication and integrity they demonstrated in that first meeting carried right through to completion.
Undertaking major renovations is challenging at the best of times, but even more so when you are expecting your third child within weeks of the proposed completion date! But we needn't have worried as Aaron, Ben and our Foreman Josh, guided us through the process with confidence and good humour.
With minimal experience of the industry - and particularly as a female - it can be intimidating to deal with trades for basic works, let alone a major renovation. Trying to explain or understand things without knowledge of the correct terminology is not always easy, but Ben and Aaron were not only patient but so courteous and respectful that I always felt that we were on the same page.
We also felt very comfortable dealing with every single member of the Tass team and associated trades when visiting the site, and found them to be extremely competent, trustworthy and reliable and just genuinely nice guys.
Aaron, Ben and Josh were always helpful in pointing us in the right direction in terms of suppliers or design and also conscientious in supporting the overall "look" we were hoping to maintain/achieve. Any queries we had were answered swiftly by Josh onsite, or in conjunction with Aaron and Ben when necessary.
The attention to detail and execution of every aspect of our reno was second-to-none. When asked to complete a defect list, we could barely find a single thing. And anything we did find had already been noted on Josh and Ben's lists… plus about 10 more of their own (minuscule) defects that we had not noticed (and possibly never would have!)
The project management end of the build was also excellent and Tass were actually one week AHEAD of schedule throughout. Such exceptional planning and monitoring made the whole process not only seamless but actually enjoyable!!
You know you have awesome builders when you find yourselves imagining an even bigger build elsewhere with them further down the track... Thanks so much to everyone at Tass; we loved every minute and couldn't be happier with our new home. It has been utterly life-changing.
Amanda & Drew
The guys at TASS Construction Group recently completed a renovation on our bathroom and kitchen in our home in St Peters. I can't speak highly enough of the quality of the job and the efficiency at which they worked. They turned the job around in just over 3 weeks and were meticulous with all detail and aspects of the project. Thank you to Aaron and Ben for everything. We are so happy with the result, it has made such a difference to our home. We have been splashing your name around town so hopefully a couple of those referrals convert to jobs.
Keenan & Laeticia
Thank you to Tass Construction for the wonderful renovation of our bathroom and the amazing transformation of our outdoor entertaining area. Tass Construction understood what our vision was, and worked with us closely and patiently in building exactly what we wanted and to a high quality standard. Nothing was a problem and the Tass team couldn't be more helpful and accommodating throughout our renovation . We are thrilled with the outcome and so thankful to their entire team for their hard work.
Natalie & Nicholas
TASS Construction Group have recently completed a renovation for us for our 2 bedroom apartment in Cronulla. The renovation was to transform our almost original 70's style apartment into a soft coastal apartment that complemented it's surrounds and was both functional as well as beautiful. We had no experience in renovating and we approached with caution and some trepidation. The TASS brothers made us feel instantly at ease. What made us decide to proceed with TASS was their professionalism, their enthusiasm, their willingness to help and guide us and most importantly that they were all about quality of work. They assured us with "don't worry, we will do a good job for you". Many people warned us about the renovation process and how overwhelming and arduous that it can become, that wasn't our experience at all. We enjoyed the process, all of our questions were quickly answered, both Aaron and Ben were accommodating to our changes during the renovation and if anything came up they said "don't worry, we'll look after it" and they followed through. Aaron, Ben and their team have done a fantastic job with the apartment including excellent management of the budget and schedule. The TASS team were courteous and professional throughout the project and they worked with energy and treated our home like it was their own. We had a concern about upsetting our nearby neighbours however, we heard only compliments of how professional they all were on site and the surrounds. The quality of the build, fit and finish is exemplary and the result is a testament to the high standards set by TASS Construction Group. Like they said; we didn't have to worry and not only did they do a good job they did an amazing job – thank you Aaron & Ben. We love our new home and we have absolutely no hesitation in recommending Aaron & Ben of TASS Construction Group.
Tara
Hi Ben/Aaron I am very pleased with the efforts that your team put together to transform our run down semi into a comfortable home. What impressed us was the dedication and skills you possess and how you magically delivered the end result on time. More than happy to recommend the Tass Group for your next renovation!
Peter
From the get go we were very impressed with Aaron and Bens professionalism. They were extremely knowledgeable and informative making the process seamless and the experience enjoyable. They included us throughout the build with regular walk throughs and were accommodating and flexible to the changes we wanted mid-build. Living at home throughout the renovations we were delighted at the cleanliness and respectfulness of their team. Overall we couldn't be happier with the high quality, finished product and have already recommended to friends and family!
Michael
We recently worked with Tass Construction Group on a renovation and restoration project on the ground floor of our house. We had substantial water issues in an older house that were difficult to rectify, as well as a floor plan that needed improvement. Aaron and Ben went above and beyond to generate ideas and work through the best long term solution tailored to our needs. They not only solved the issues we had, but also transformed the area into a beautiful space that we can now utilise and enjoy. We were very impressed with the quality of their work, along with their flexibility and willingness to accomodate our many questions and ideas. The end result was far beyond our expectations and we believe their work has most certainly added value to our home. We highly recommend the Tass construction group and will definitely be working with them again on our next building project.
Aaron & Sarah
The result of Tass Construction Group speaks for itself, but the interactions with the team including flexibility, practical suggestions and advice was what made this process enjoyable. The Group culture is centered around client satisfaction achieved by frequent, clear and concise communication. The quality of workmanship and the delivering on promises (including timelines) means that trust is quickly established. The group is unique in the sense that the construction jargon is removed and a co-operative and working together environment is established early in the process. Would recommend TCG with no hesitation.
Andrew & Sophie Jenkins
We had a very specific aesthetic we wanted achieved for our kitchen and laundry renovation, and not only were TASS fantastic to deal with (great communication from start to finish), but they also delivered exactly what we had hoped for. It was a pleasure to deal with TASS, and to see our vision brought to life. Thank you to Ben, Aaron, Josh and the team!
Natalie & Anthony
When a written testimonial just isn't enough